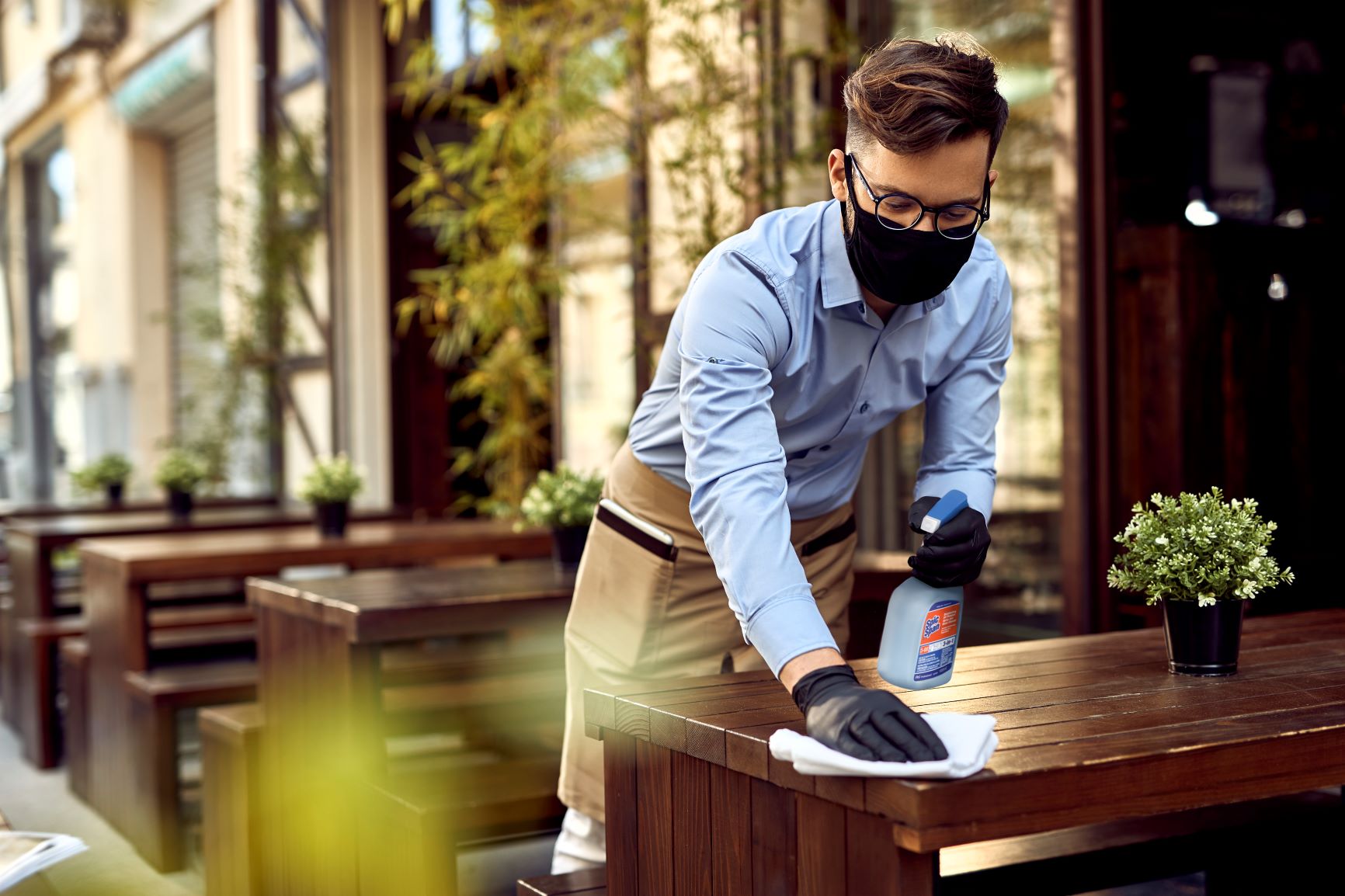 This is a sponsored post with P&G Professional
Ipsos, a global market research firm, recently used Mystery Shoppers to conduct in-store visits of 6,000 retailers across the U.S. to learn which brands are successfully implementing Health and Safety measures and which ones are not. 
64% of the stores visited had no staff actively cleaning interior high traffic areas, such as carts, baskets, counters, credit-card readers, doors, and demos.
Customers already feel skeptical about store cleanliness, especially behind the scenes where customers aren't allowed. We've all seen hidden-camera TV programs that show the dirty secrets of restaurants, retail stores, and supermarkets across the U.S.
Consumer Reports said last year that nothing turns off customers as much as dirty stores.
And that was before COVID-19 made us all germaphobes.
Store Cleaning
I reached out to P&G Professional and asked what the common problems would be for retailers in terms of cleaning during a pandemic. You might know P&G for products in your home such as Microban 24, Safeguard and Dawn. P&G Professional offers several EPA-registered cleaning and disinfection products formulated specifically for businesses. They sent me a few of their products that clean and disinfect simultaneously to try, which resulted in this sponsored post.
Shoppers want to see clear indications that your store cares about cleanliness and is using a retail store daily cleaning checklist.
Most people don't know the difference between cleaning and disinfecting.  Cleaning uses detergent and water to remove germs and dirt, while disinfecting uses chemicals to kill germs.
You need to do both to effectively kill germs so you can build trust with your customers and make them feel safe shopping with you. It isn't enough anymore for your store to just look clean – it has to be disinfected.
If you're like a lot of retailers, you might have a glass cleaner, an all-purpose cleaner, and now have a separate disinfectant.
You probably already provide hand sanitizer for shoppers upon entry and clean everything down to your trash cans. Your cleaning regimen needs to be visible for customers so they know it's happening.
I mean, if a surface is cleaned and disinfected, but no customer sees it, did it really happen? They need to see it.
This is particularly true for stores that offer shopping carts and baskets which hold germs. Adding signage around your store, or even on your website, that share the cleaning procedures and products you use can also help instill confidence in your staff and guests that your store is disinfected and protected.
P&G Professional Spic and Span Disinfecting Multi-Purpose Cleaner is safe and easy and lets you clean and disinfect in one step, so you know your business is safe for your employees and customers. You only need one product, not three.
Breaking the contamination cycle starts by educating and training employees.
When I was first starting out, I had a job at a dry cleaners. A few days before Christmas, I came upstairs to the break room which had a half-dozen tables to clean as well as a stainless steel sink.
Out of nowhere I heard this woman bellow from behind me, "So you're the one!" I learned she was the boss's mom. She pointed to the drain of the sink. "You call this clean!?"
She stayed with me until every speck of coffee that had ever gone down that drain was gone. I learned what her definition of clean was.
You know customers judge you by how your bathroom looks; it can either impress them or scare them away.
I thought about that dry cleaner recently as retailers returned to their stores with a new appreciation for cleaning.
I would have used Comet Disinfecting – Sanitizing Bathroom Cleaner, which eliminates the need for multiple products because it cleans and disinfects in one step. Plus, the scent is a citrus fragrance that smells nice. You can also use it in sinks, toilets, walls, or other bathroom surfaces that need cleaning.
You need to make sure your frontline crew is on board with your new cleaning realities.
When it comes to cleaning, train your retail employees to understand:
Your definition of clean.
Where the cleaning materials are, how to use them, and where to store them.
You must inspect what you expect.
If I were instructing an associate, these are the steps I would take:
Begin with defining what clean means. My definition of clean is that I can see myself in the chrome and nothing is visible on the porcelain.
Next, I'd show them where we keep all the cleaning supplies and the necessary gloves.
Clean the restrooms only when you are sure they are empty. Clean areas of the store when customers are not close by, so as not to impede their shopping, but make sure you stick to regular cleaning schedules.  Spray product on the surface to be cleaned and use a microfiber cloth, making sure to cover every surface. Leave it on for the required amount of time (check the back of the bottle) before wiping it off. 
Stand back and check at least three places to make sure you cleaned them well enough. Put the cleaning supplies where you found them and if using disposable gloves, discard them.
Training and using known brands you can trust gives customers peace of mind.
The advantages of using these all-in-one products are that they are easy for associates to use, easy to store, and have instructions that are easy to follow. And because of that, you'll be more successful and likely to keep up with it.
What should you do?  Visit www.pgpro.com to buy now or request a consultation from P&G Professional experts.
And whatever you do, make sure you don't let coffee stains linger like I did working at the dry cleaners 40 years ago.