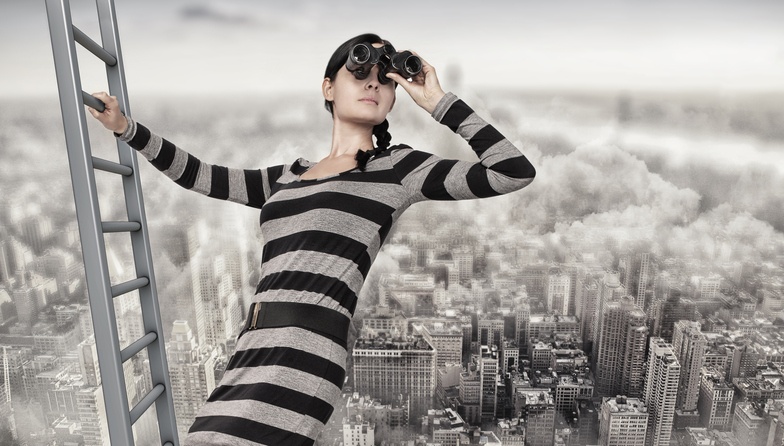 I received a note from a reader wanting retail advice, "I was given a part-time job at a high-end department store in the handbags department, but know nothing about handbags. What can I do to be given a full time position and be successful at selling?"
If you are the owner of a store, stay with me, for the answers to this question could be given to your own employees looking to advance.
I asked several retail owners for their advice on Facebook which I'll get to, but first a story…
It was 1977 when I was hired part-time at the Broadway department store. I was stuck up on the third floor in a dead zone nestled behind Intimates and Notions – in TOYS. In June.
It was small, had one shelf with dolls, one shelf with board games, and a display with a few electric toys.
No one went there. No one had been there. No one was going there.
After five hours of doing nothing, I decided to explore the back of the display unit and found a dusty but handsome box waiting to be opened. Inside was a red remote-control Ferrari.
I opened it, grabbed a couple of batteries, placed them in the belly of the car and began to play with it.
What if other people saw this?
I ventured out past the silk hangers and bras to the main aisle.
Once there I began racing it around which sparked everyone's curiosity. Sensing a show, I rolled it right up to a lady's foot and watched her reaction. I knew it was good when I caught customers watching us, looking like they were six years old.
I found I was able to drive the car onto the escalator, descend to the next level and then challenge people with it. Everyone was laughing, everyone was having fun.
I drove it back up and found there were people in my toy section. Turns out people wanted one of these $200 cars for their kids. I sold three before I got a phone call from the store manager, "What were you doing up there?" Sensing no disapproval, I told him exactly what I had done and the huge sales that I'd just rung up. "Go back to just what you were doing!" he said excitedly.
We sold out of the cars by the end of the day – something that never happened in TOYS.
Within a month I was promoted to full-time employment.
If you're looking for a promotion, notice I had done the best with what I had to work with, had been curious to explore and learned about my products. I had sold them, made it fun and most importantly – I had delivered results. I'd give that retail advice to anyone looking to get ahead.
So I asked my Facebook fans for their retail management tips so they could help me help my reader, I learned the following which I've categorized:
Learn from others…
From Michael VanDervort: Buy a handbag from the best salesperson at Nordstrom and emulate them.
Cultivate stick-to-itiveness…
From Crystal Lazaroo: If at first you don't succeed, try and try again.
Learn why consumers buy…
From Jenny Blaikie Spring: Women buy handbags (and other items) for emotive reasons. It might be to cheer them up, to look more trendy so they feel younger, to carry things so they feel in control etc. So think about the feelings behind their purchase and address those first.
Keep an open mind…
From Jennifer Keithley Untermeyer: Never ever assume a price point based on the customer's appearance.
Sell it…
From Eric Briggs: Understand the difference between features and benefits. Most likely, women are buying handbags as an aspirational purchase, not because they need a bag with pockets. Sell the image, not the product.
From Geralyn Gray: Greet the customer, engage with the customer, compliment them or what they are looking at, and make a smooth transaction. And thank the customer. Get info to keep in touch for future purchases and sell, sell, sell!
From Amy Andryc Witmer: Listen to what your customers are looking for so you'll steer them towards those products with those features.
From Laurie Richter: Figure out a customer's style and determine whether they are looking for the latest thing or something more classic and timeless.
Do some research…
From Candice Caruso: I would recommend buying some of the high style magazines to get familiar with brands, trends and styles. This is an inexpensive and easy way to get product knowledge and talking points to engage your clients.
From Cindy Dunston Quirk: Show drive and do some homework on the products you are selling. The more you know, the more you will sell and the more management will notice your drive.
From Glenda Gossett Gallagher: Pick a brand like Dooney Burke. Feel the bags, look inside to get familiar with them. Know to tell customers to register the cards that come with bags. By researching you'll learn the type of leathers that each brand uses.
From Danielle Teat: Do a little research about your company and the items you are selling.
Learn the 50 Things Employees Should Never Do

Have fun with it…
From Marian O'Brien Rainford: While on the floor, smile, make eye contact, and be sincere. It shows.
Ask…
From Stephen Epstein: Take advantage of those around you that do have all the product knowledge and the hands in experience. Become part of the team and they will want to share with you.
Value yourself…
From John Sowinski: Don't sell yourself short.
From Amy Taylor Adkins: Persistence, hard work and dedication pays off!! No prior experience necessary for that!
Go the extra mile…
From Cheryl Nagle Kees Clendenon: Show up early and stay late. Managers watch this sort of thing and you set your "reputation" in the first 3 weeks at a new job. Use critical thinking skills to solve problems. Figure IT out. Whatever IT may be!
In Sum
As a part-time employee, you have gotten your foot in the door. Whether it's handbags, handkerchiefs or hammers, it's up to you to prove yourself to your boss.
When you've shown them they've made a wise decision in hiring you, and that they can build their business better with your skills, they'll promote you.
Use these tips to show you are serious about becoming a full-time employee and you'll be able to tell others how you did it too.
Retailers, make sure to share this advice with your employees.