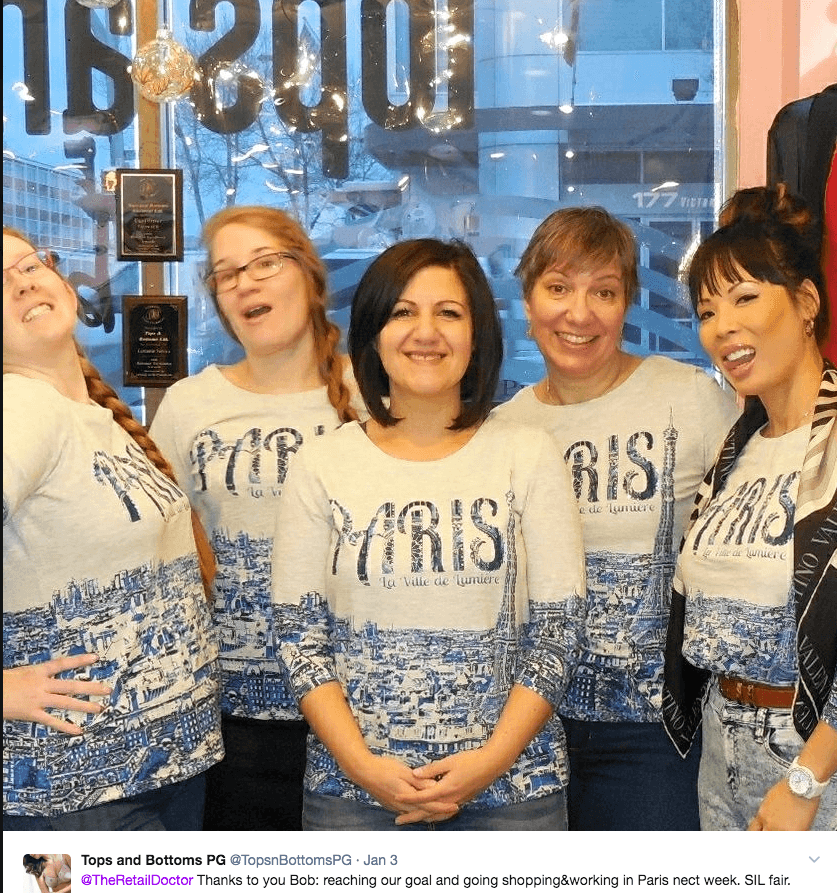 I received a tweet from Susanne Wolf accompanied by the photo above. It read, "Thanks to you Bob: reaching our goal and going shopping in Paris next week."
I recognized her as a customer of my SalesRX online training immediately and emailed her to ask her to share her success story.  Her undergarment business Tops and Bottoms is in Prince George, Canada.  Their motto is We help women look and feel beautiful.
At a time when other brick and mortar retailers are down double-digits, she's had a 19 percent gain.
How did she do that? With the help of my online retail sales training program.
Suzanne can tell you more about her experience.
"Small business is a big risk. A person who starts a business has to be a strong person. You have to educate yourself, and you have to be able to change."
"I am German. I'm a know-it-all. The right therapy for a know-it-all is to learn something they don't expect. It took me 2 months to put SalesRX into action, but it worked exactly like you said it would. It was like a recipe."
"Everybody can buy online today. To be a brick and mortar store, you have to offer a really special experience. You can't have employees who either don't get it or don't care."
"Our customer approach has changed and made everything simpler from the greeting, to the engagement, to the checkout."
"Underwear is a hard purchase for women who've had surgery or are overweight or have other body issues."
"We used to ask, How Are You? But we learned that's not a good way to start a conversation because everybody lies about how they're really doing, and they immediately think about how stressed they are."
"You think a greeting so simple and easy, but it takes time to break bad habits before you can offer people a better experience. I had to fire a few people. I didn't like it, but you helped me through the whole process."
"Can you tell me more about firing people?" I asked.
"When I started the training, I said they would either learn to do this system or they would be fired."
"I had hired one employee for all the wrong reasons. I felt sorry for her messed up life and thought I could help. I spent months training her."
"But she didn't use the training on the salesfloor. I took her aside and asked her about her reasons. I also told her why I could not promote her – she couldn't even greet her customers properly."
"She got mad at me.  Drama developed. I had to fire her."
"As a result, my hiring process changed. I used to ask myself, Who needs a job the most? Now I ask Who's going to help me win, win, win?  My customers win by getting support from an able salesperson; my salesperson wins by enjoying a fabulous job; and I win by having someone who actively supports me.
What's the biggest change you made?
"I used to believe that  talking a little bit about the store was enough. Now we do store tours. I thought in the beginning, this is a strange thing to do but it is our opportunity to engage and show that we have more than just bras. And, best of all, it works like a charm!"
"One of the other big things we do now…we sell from the higher priced product down to lower priced."
"We used to be just the opposite! That worked too, just not well!"
"My business is about intimacy. I need to find out what my customer likes and doesn't like about their body, so I understand what they want to fix.  But first I have to find something we have in common. It's an art. You taught me that."
"And it's so necessary to build trust because, according to Oprah 80% of women are wearing the wrong size. We fix that and create aha moments."
"Knowing about personality types changed how I perceive people completely. No one is a pain. People are just how they are. And whatever is happening, it's not about me. Now that I know that, I can better serve my customers and actually be helpful. That would have never happened without the SalesRX training."
So tell us about the results of the retail sales training…
"We had a goal to make $30,000 more than the previous year. We exceeded that goal by 3x, and I was able to take all my employees to a trade show in Paris."
"This year, I'm looking forward to expanding my store, hiring two additional employees, and we're also bringing in several new lines."
What's your advice for other brick and mortar retailers?
"Don't get tied up in thinking you know it all. The best advice I ever got is, When you travel, take advice from a traveler. Without this program, we would have chugged along, but this really made us take off. It uses concepts that are easy to understand. You really make your money back so quickly. If you want to stay in business, you have to follow Bob's instructions."
Employee development and retail sales training for your employees in particular is the key to significant sales increases and the best customer service experiences.
See also, Is SalesRX Online Retail Sales Training Right For My Stores 
In Sum
If you're looking for help training your employees.
If you're looking for something that actually works to drive sales.
If you're looking for something like a retail sales academy that is available online where your team will train in bite-sized lessons, then you should checkout SalesRX.com.
We just ask for 10 minutes a week to master the soft skills of building rapport and getting a complete stranger to trust you before ever trying to pitch a product.  
Your employees will finish the program confident about their skills as a retail salesperson with the ability to improve conversions.
And then you choose a spot in the world you've always wanted to go and off you go…