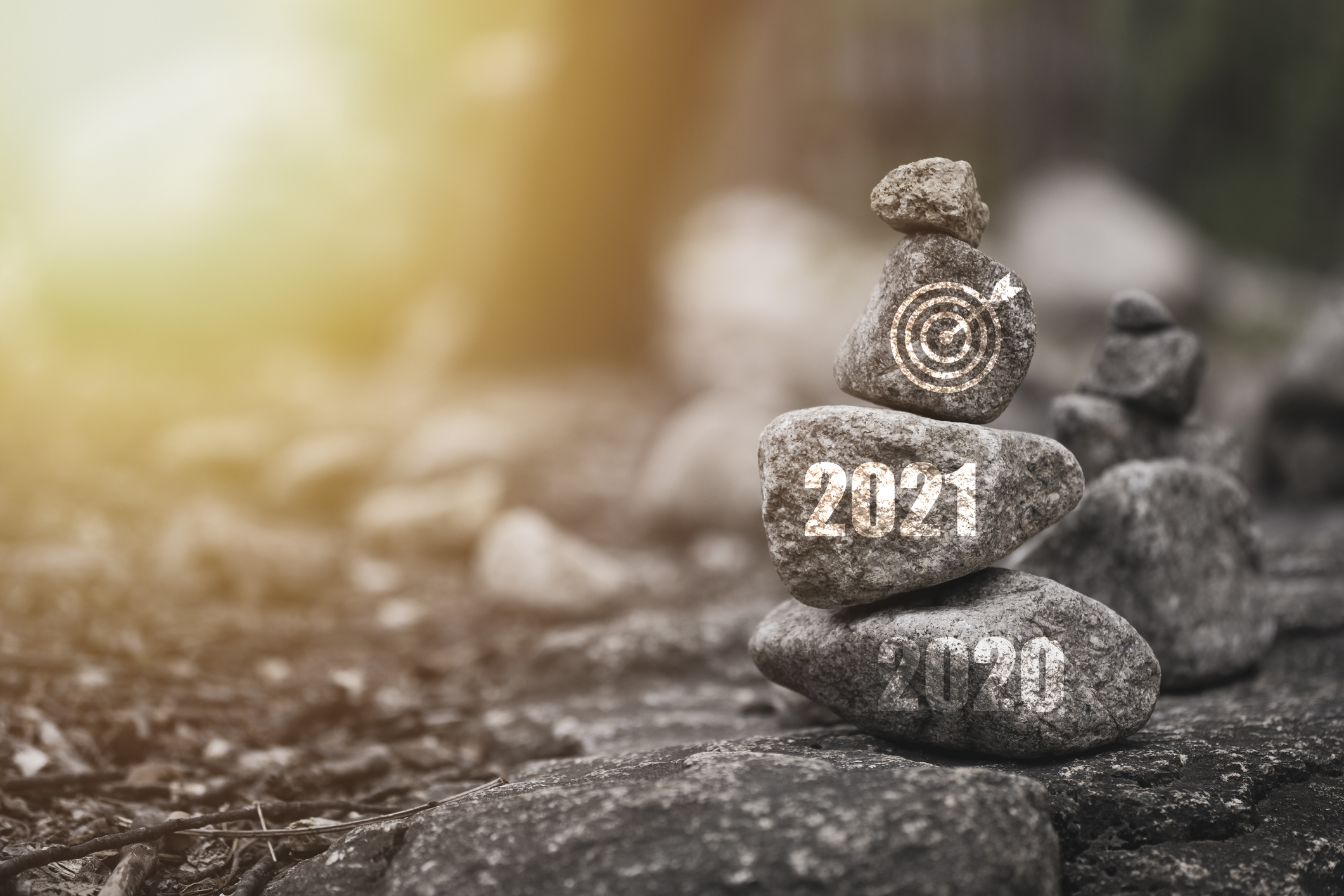 Goal setting is so misunderstood. We think we should save it all up for the end of the year and then come up with gigantic goals which are actually more like wishes.
Did you miss some opportunities in 2020? I know I did.
What no one tells you is that you can make a new goal any day. Set a new standard any hour. Hold yourself accountable every minute.
But how to do that?
The danger at the start of a new year is that we can get trapped looking backward at the mistakes, the lost opportunities, the political upheavals, the statistics and the predictions.
Once you go down that rabbit hole, it can be hard to pull yourself out.
Well-meaning friends will add their two cents that it wasn't your fault, it's online retailers.
You might grab a drink, put on whatever your Netflix binge of choice is, flop on the couch, like some Facebook posts and tell yourself that this year will be different.
Except maybe you said that last year.
That's OK. It's not something anyone brags about. It's personal judgment; a telegraph from your brain to your heart that no one else sees. It keeps you up at night, it leads you to bad hiring and a host of unprofitable decisions – whether you are the smallest, one-person shop on Main Street to the CEO of the biggest luxury brand.
The stress that judgment causes invades your sleep and jolts your awakening. Add to that the media loves to make you more fearful – especially in a New Year with nonstop politics – and you have a recipe for trouble.
Here's the good news, 2021 doesn't have to result in another year you shame yourself … and if you'll give yourself 10 minutes and take a few action steps, you can make that personal goal a reality.
Here's my 6-step goal setting process how to have a great 2021:
First: Lance the boil
If you have a lot of baggage in your head (tapes of wrong decisions, thoughts of defeat, etc.), I want you to write it out on a piece of paper. Use as many sheets as you need. Please don't do it on your computer or iPad – physically writing it out as fast as you can is a hardwire to the unconscious.
Think of it as dumping a truck full of garbage.
Once you have it all out on paper, don't you dare read it! Instead, grab some matches and a metal trash can, or go to your fireplace and without reading them, light them on fire and simply say, "Go."
Next lay down with a book on top of your belly. Breathe deeply through your nose down to your stomach slow and deep enough to raise and lower the book. Do this for about five minutes.
So many of us are immune from our own bodies so you may have to force your mind to inventory how you feel. Notice how your body feels lighter, your burden is off your back, you have a sense of release.
Second: Take stock
Ask yourself, what worked this year with your business? What are you happiest that you accomplished? This is focusing on the good in a new way. Enjoy it!
Third: Envision
Grab another piece of paper and a pen. Finish this sentence, "This year I want to _______." Maybe you'd enter, "take a vacation to the Bahamas," or "buy a new Audi Q5," or "see all my son's Little League games." It can be about your business, your personal life, anything.  It's called envisioning! It lets you see where you want to be. Don't make it into a laundry list. Just write one thing. Make it very specific though and not something generic like, "have less stress." Yes, it's what is called creating a goal.
Fourth: Quick Game Plan
Now consider your strategic plan. What three things will it take for you to achieve that goal? Do you need to hire more people? Learn new retail sales training skills? Stop looking at your smartphone anytime it chirps? Find an activity for the kids after school one day a week? Whatever it is – only you can determine it. Write them underneath your goal.
Fifth: Accountability
How will you hold yourself accountable and stay on track? Write three dates on a calendar or enter in your smartphone, "How am I doing?" Do this with a friend and each be the other's accountability partner. I know this works really well for longer projects like wanting to write a book or add another location.
Sixth: Sleep on it
Place this paper under your pillow for one week. Each night, take out your paper and read it to repeat your vision to yourself and think about something you did that day to move your game plan forward so it will reset your focus and mindset. When you wake up, before you get out of bed, think of one thing you'll do that day to move toward your one specific goal. At the end of the week, place the paper in your daily planner or file it in your tax receipts so you will be able to review it at the end of 2021.But keep the practice of reviewing your game plan and envisioning your plans before going to bed and upon awakening throughout the year to realize your desired outcomes.
See also, How To Walk Away A Winner
In Sum
We live in a world of NO.
We live in a world of a relative with coronavirus, a child's education in limbo, a body that won't work as it used to – you name it – what came before was multiplied in 2020.
We don't need to be told what we need to avoid to have a great 2021, we just have to listen to ourselves and take action.
To say, "YES."
To repurpose the mind away from the fearful what if and toward the hopeful.
These six steps will move you from stress, worry and being anxious into a positive 2021.
And whether you are a retail salesperson, store owner or executive, all you want is a life that is filled with good things.
The funny thing is, it's up to you to make it happen. You can become your own life coach with this new year's resolution. And following this simple goal setting process, you can have a 2021 that makes you truly proud.